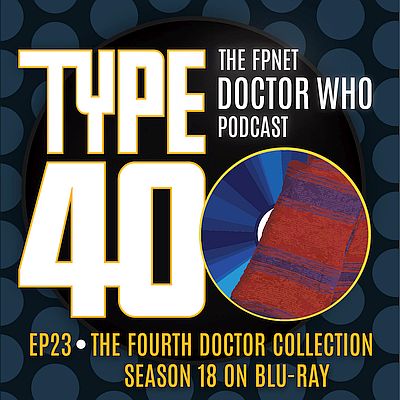 TYPE 40: A Doctor Who Podcast
Episode 23: The Fourth Doctor Collection – Season 18 on Blu-Ray
Our TARDIS heads back to the dawn of the 80's for this feast on a whole years worth of Doctor Who goodness! Tom Baker's final series as The Doctor is the latest to join the Blu-Ray box set collection. So how could we resist tearing the cellophane wrapping away for this extended review and celebration of Season 18...?
Writer, TV producer and unabashed 80's enthusiast Simon Horton joins your regular pilot, Dan Hadley. To talk about this crucial year for the series on screen and behind the scenes. Reliving childhood memories and taking in as many of the brand new extra features as they can on the way!
The Fandom Podcast Network must advise you hold tight for stops at Argolis and Traken, diving in and out of E-Space and crashing on Brighton Beech to take in some of the other sights and sounds of 1980. You won't want to miss this fun, high definition edition of Type 40: A Doctor Who Podcast...
You can always find TYPE 40: A Doctor Who Podcast on:
- The FPNet Master Feed @Fpnet.podbean.com
- FPNet on Podbean app
- Fandom Podcast Network on: iTunes, Stitcher, Podbean, & Google Play
- Instagram: FandomPodcastNetwork & type40drwho
- Facebook: TYPE 40: A Doctor Who Fandom Podcast: 
  http://bit.ly/type40_fbgroup
If you would like to contact us directly you can:
- Email: type40drwho@gmail.com
- Twitter: @type40drwho
- Instagram: @type40drwho
- Kyle on Twitter @AKyleW Instantgram @Akylefandom
- Dan on Instagram: @danhadley__
Tee Public:
Please also visit our TeePublic store where you can help support the Fandom Podcast Network while wearing your favorite show logos with pride!
iTunes: Please leave us a review on iTunes so new fans can find us easier. We LOVE 5 star reviews of course, but we love feedback in general!
Please listen to our other awesome podcasts on the Fandom Podcast Network:
Blood of Kings: A Highlander Podcast
Culture Clash: The FPN Weekly Pop Culture Podcast
Couch Potato Theater: The Guilty Pleasure Favorites Podcast
Time Warp: The Fandom Flashback Podcast
The Endzone: An (Unofficial) NFL Podcast
Good Evening: An Alfred Hitchcock Podcast
DiscoVille: A Star Trek Discovery and The Orville Podcast
Hair Metal: The Hair Metal Podcast