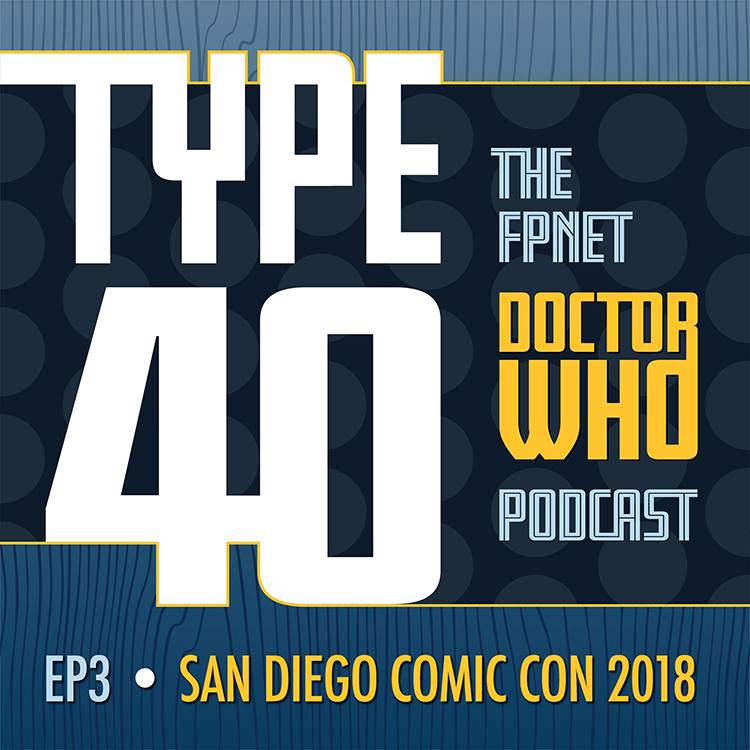 TYPE 40: A Doctor Who Podcast
Episode 3: San Diego Comic Con 2018
Welcome to TYPE 40: A Doctor Who Podcast here on The Fandom Podcast Network! On this podcast, we will take an in-depth and closer look at this beloved television series that has shaped the landscape of science fiction for over five decades, and we are counting down the days towards Jodi Whittaker's Doctor Who SEASON 11 to premiere very soon this fall!
On this episode of Type 40 Dan Hadley is at the controls joined by Norman C. Lao and Kyle Wagner as they take the deep dive into the time vortex to discuss all things Doctor Who that were announced at San Diego Comic Con 2018!
This year Doctor Who was a featured panel in Hall H on the first day of the con, and weather we are talking about our new Doctor sporting the cover of the Comic Con preview issue of Entertainment Weekly or all of the announcements from Hall H.  Including but not limited to the first full trailer for the new season, the announcement from new show runner Chris Chibnall that for the first season we will see no familiar monsters or the unveil of the new Sonic Screwdriver!
There was so much to cover and not only from the panels but the fact that Jodie herself was all over comic con including making unannounced appearances at event's at comic con.  It is an exciting time and we here at Type 40 are here to talk about all the happenings!  Geronimo!!!!!!!!!   
You can always find TYPE 40: A Doctor Who Podcast on:
• The FPNet Master Feed @Fpnet.podbean.com
• Fandom Podcast Network on: iTunes, Stitcher, Podbean, & Google Play
• Instagram: FandomPodcastNetwork & type40drwho
If you would like to contact us directly you can:
• Instagram: @type40drwho
• Norman on Twitter @starfighter1701 and Instagram @socalswordfighter
• Kyle on Twitter @AKyleW Instantgram @Akylefandom
• Dan on Instagram: @danhadley_
Help support the Fandom Podcast Network and wear some of their fantastic original designs and logos on t-shirts, mugs, hats and more from Tee Public Go to: https://www.teepublic.com/user/fandompodcastnetwork or just search Fandom Podcast Network to find our storefront.
Please search Fandom Podcast Network on iTunes and leave us a review so new fans can find us easier. We LOVE 5 star reviews of course, but we love feedback in general! 
Please listen to our other awesome podcasts on the Fandom Podcast Network:
Blood of Kings: A Highlander Podcast
Culture Clash: The FPN Weekly Pop Culture Podcast
Couch Potato Theater: The Guilty Pleasure Favorites Podcast
Time Warp: The Fandom Flashback Podcast
The Endzone: An (Unofficial) NFL Podcast
Good Evening: An Alfred Hitchcock Podcast
DiscoVille: A Star Trek Discovery and The Orville Podcast
Hair Metal: The Hair Metal Podcast