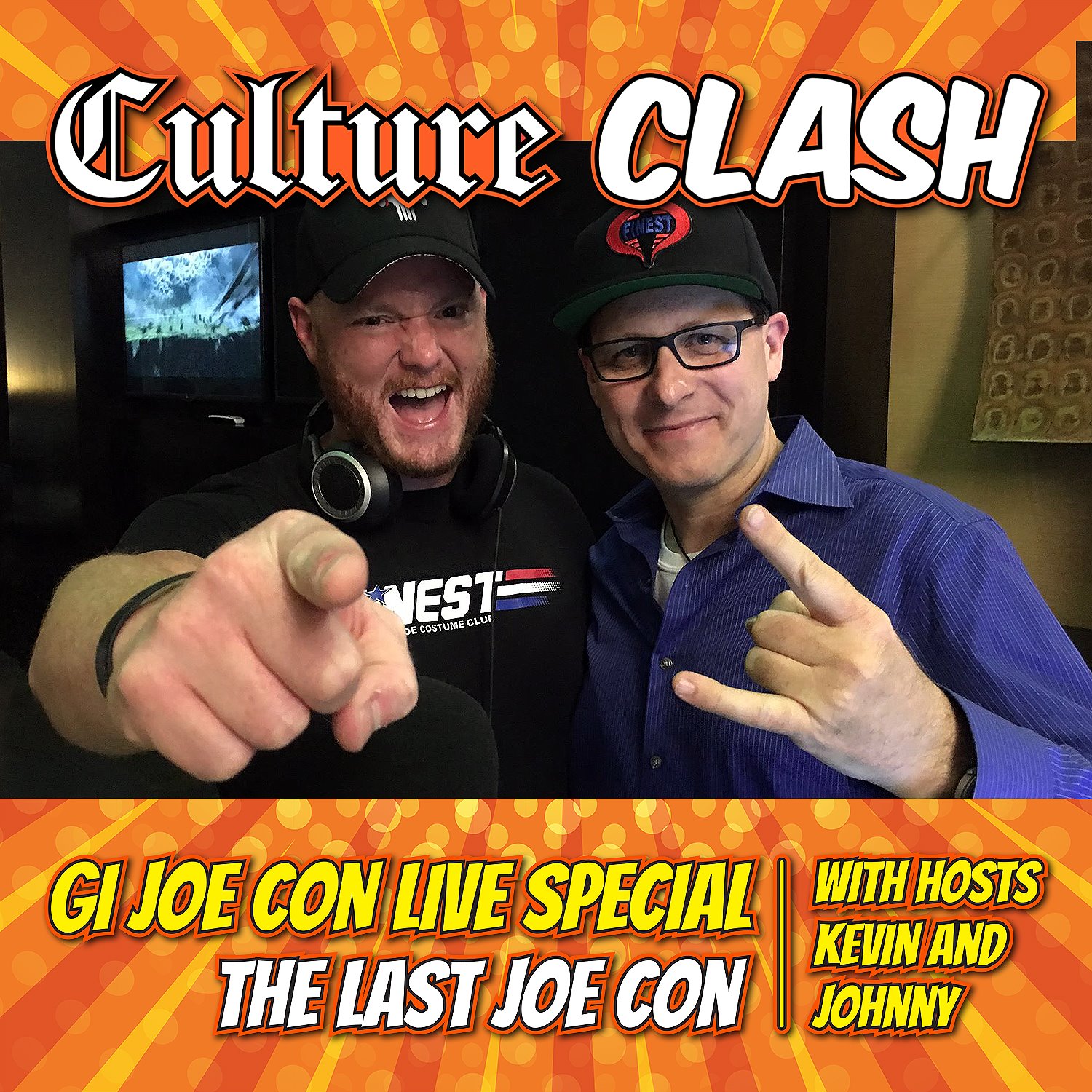 The 2018 GI Joe Convention took place June 21-24 at the Chattanooga Convention Center, in Chattanooga Tennessee. Joe Con was celebrating its 25 wonderful years of conventions and GI Joe Fandom. But the celebration was a bit bittersweet, because it was also to be the last Joe Con. Although it was the last Joe Con, fans, exhibitors, and organizers spirits were still very high throughout the entire weekend.
To help celebrate this last Joe Con, Kevin Reitzel, cofounder of the Fandom Podcast Network and member of the GI Joe Finest, and his guest host Johnny Karzai, the Public Relations Officer for the Finest, decided to podcast live from the Marriott hotel on Friday night June 22nd. As it tuned out, this was the place to be for Joe Con fans and attendees. The party started at 8pm and the live podcasting started shortly after. 
After a quick introduction, Kevin and Johnny started out with fantastic news about the Finest goals for its chosen charity "K9's For Warriors",  that were celebrated at the Finest booth at Joe Con.
Then what came next, was a fantastic lineup of great guest interviews. 
Joe Con Live Podcasat Guest List:
1.    Noel Wood: XO of the Southern Command (Georgia garrison of the Finest)
2.    Keith Mandeville: (Quartermaster of the Finest)
3.    John Kozin: organizer of the Northeast Toy & Collectibles Show
4.    William Jay: CO of the Capital Defense Regiment (DC-area garrison of the Finest)
5.    Gray Childs: everyone's favorite human
6.    Joe Colton (CO of the Finest) & Maggie Cogan (Membership Liaison Officer of the Finest)
7.    Brian Savage: CEO of Fun Publications, Inc.; organizer of JoeCon
8.    Erik Neal: Finest member and active duty United States Army
9.    Mark Weber: former Hasbro Manager of Global Brand Development for GI Joe
10.    James Kavanaugh, Jr.: noted author and GI Joe superfan
11.    Mike "Raynstroyk Czar": Finest member
We would like to thank all of the guests that came on this live Joe Con podcast special. Thank you for sharing your stories, experiences and personal accounts of Joe Con and your GI Joe Fandom.
Kevin would also like to give a special thanks to his fellow GI Joe Finest Costume Members for a most memorable Joe Con weekend!
YO JOE!!!
Fandom Podcast Network Contact Info / How to contact & find us:
- FPNet on Podbean app
- Fandom Podcast Network on: iTunes / Stitcher / Podbean / Google Play
- Facebook: Fandom Podcast Network
- Email: fandompodcastnetwork@gmail.com
- Instagram: FandomPodcastNetwork 
- Twitter: @fanpodnetwork
- Kevin on Twitter: @spartan_phoenix & Instagram
- Kyle on Twitter: @AKyleW Instantgram: Akylefandom
- Guest: Johnny Karzai at Johnny K Photography on Facebook

Tee Public:
iTunes: Please leave us a review on iTunes so new fans can find us easier. We LOVE 5 star reviews of course, but we love feedback in general!
Please listen to our other awesome podcasts on the Fandom Podcast Network:
Blood of Kings: A Highlander Podcast
Culture Clash: The FPN Weekly Pop Culture Podcast
Couch Potato Theater: The Guilty Pleasure Favorites Podcast
Time Warp: The Fandom Flashback Podcast
The Endzone: An (Unofficial) NFL Podcast
Good Evening: An Alfred Hitchcock Podcast
DiscoVille: A Star Trek Discovery and The Orville Podcast
Hair Metal: The Hair Metal Podcast